Post by CP_8530 on May 5, 2014 4:22:44 GMT -5
...or it'll be Gone in 60 Seconds.
I purchased this miniature HO-scale Athearn White-Freightliner COE rig as a black plastic undecorated kit back in May 2001, 13 years ago. I really had no reason for purchasing it other than it looked like a neat model, hanging on the shelf of the long-closed hobby shop in the local mall (Actron Toy, Bramalea City Centre). It basically sat in various states over the years, at one point I had chopped the frame in half, lengthened it and installed a flatbed body on the rear, with an ugly yellow brush painted job.
I saw it about a month ago in my parts box, and decided to give it a quickie makeover and decent paint job. After some looking, it was decided to build it stock and loosely base it off the Freightliner H.B. Halicki steals in the original Gone In 60 Seconds movie.
The COE or Cab-Over-Engine trucks were popular back in the 60's and 70's because their shorter wheelbases allowed longer trailers to be hauled, since several states had truck+trailer length restrictions in place. When those were changed or eliminated over time, the COEs fell out of favour for a few reasons, namely they were less safe compared to a "conventional" rig and a bit rougher riding due to the operator sitting right over the front axle.
The first step was removing the ugly yellow I had painted it years ago (forgot to take any before shots), doing some bodywork on the front and priming it grey, followed by a few coats of white. The body was masked with some carefully cut curves and sprayed blue for the front/side stripes. The front bumper and grillwork was painted silver with a black wash over the grills to darken them. The cast-on details (the tooling for this model dates to 1977) were painted silver and the top lights coloured. Some simplified mirrors were rigged from wire and installed. The solid headlights were drilled out, painted and filled with Krystal Klear for the glass. The tiny Freightliner emblem was painted black and highlighted with silver as best as possible.
The frame was shorted back to its former length, 5th wheel reinstalled, some rear mud-flaps added, fuel tank detail reapplied and painted.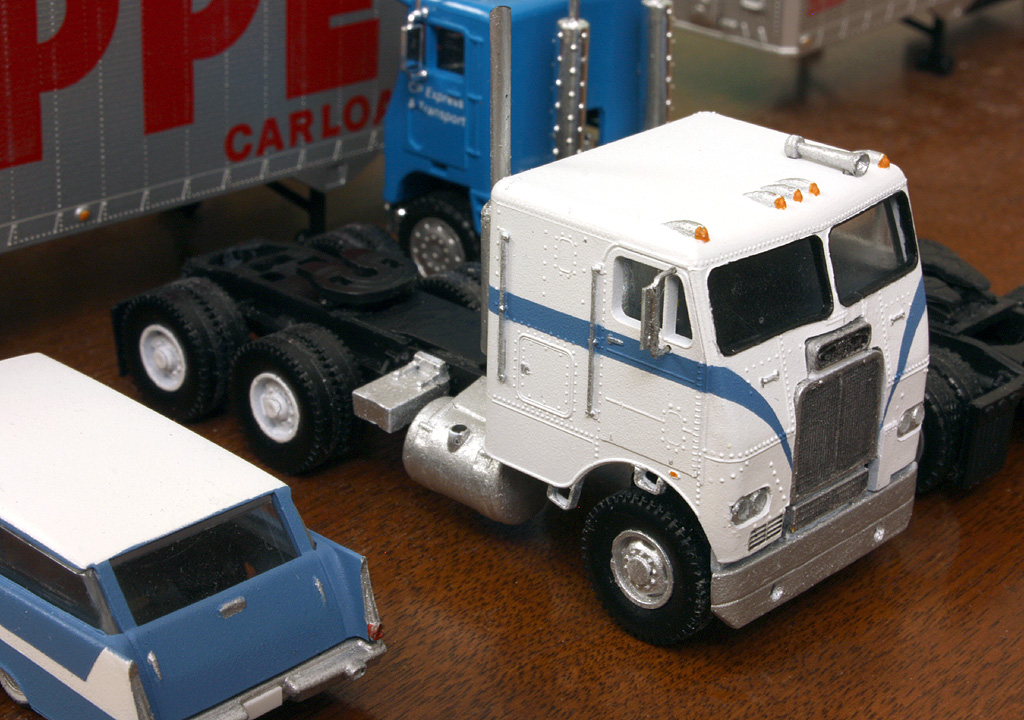 Sitting at the, er, makeshift freight forwarding warehouse yard. It'd be an early White-Freightliner COE model, possibly a WFT-6364. Note the longer cab with sleeper bunk, compared to the truck in the background with a "day cab" (no sleeper). The Tamiya aluminum silver used for the bumpers went on a bit thick, something for me to keep an eye on for the next one.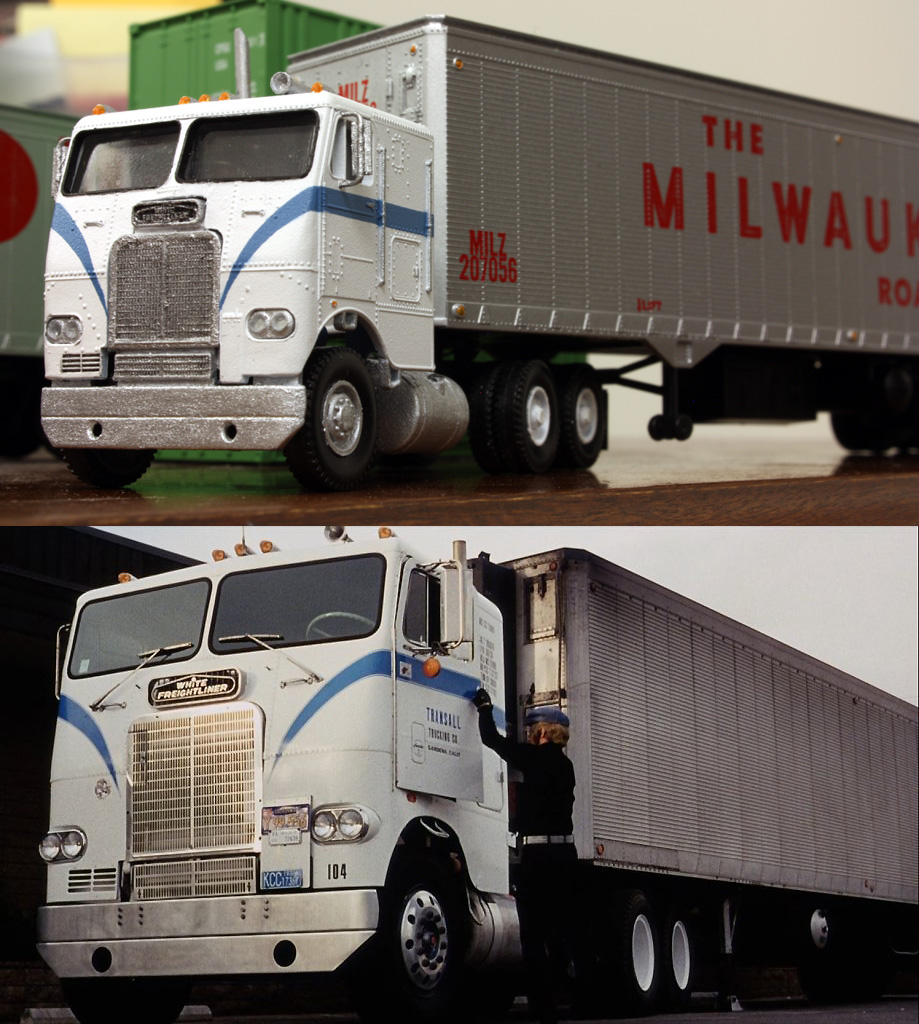 Shown hooked up to a Milwaukee Road pig van, with a screenshot from the movie when it's being stolen below. (bottom movie screenshot source:
IMCDB
). The van (or trailer) is an old Athearn kit assembled with the markers painted. Come to think of it, it's pretty close to the one in the movie too...
No license plate or lettering details added (yet). Since it's loosely based off the Gone In 60 Seconds truck, there are some things I didn't bother to change like the wheel rims. There's also a very fine light blue line around the blue stripes that would have been a real pain to mask and paint.
I'm tempted to buy more of these little suckers, chop off the 3rd axle and sleeper, and covert them to daycabs. CP Express & Transport had a bunch across Canada they used for local deliveries, in their attractive blue livery (and maroon-red as CP Merchandise Services until the name change in July 1970).